Saratoga Performing Arts Center | Saratoga Springs, NY
Raise your hands in celebration because Dave Matthews Band is coming back to Saratoga Performing Arts Center in Saratoga Springs New York to perform live in concert on Friday Friday 12th July 2019. That means fans can grab the chance once again to see them! Dave Matthews Band always gives a flawless, well rehearsed concert that leaves you wanting more! Tickets are booming for their 2019 dates, so if you want to be there – you'd better be quick to book yours!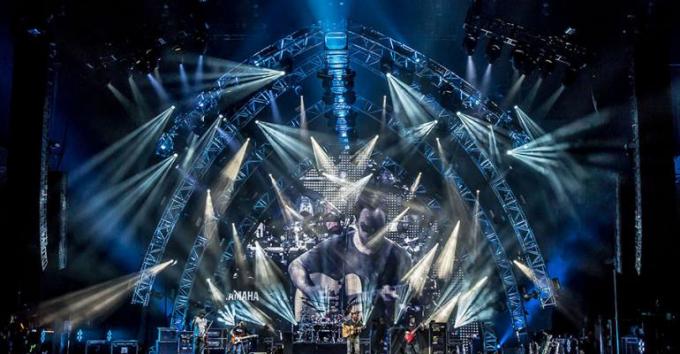 It's that time of year again when astounding concert stars like Dave Matthews Band select the best spots across the country for their next big shows!
Get ready as Dave Matthews Band grace the stage for another mind blowing set, you never know what you're gonna get. No two shows ever sound exactly the same. Dave Matthews Band love to play around, jam, and do lengthy improvisations on their songs, amidst a trippy stage set of spectacular video and lighting shows. For over 20 years Dave Matthews Band have been giving their fans everything and more.
After forming in 1991 in Charlottesville, Virginia, U.S.A. Dave Matthews Band have churned out the records, with sales of over 30 to 40 million albums, they have proven that they are up there with the greats. In total they have had five albums that debuted at number one on Billboard's 200 chart. But beyond the sales and chart actions, their songs stand out and create an emotional bond with their fans. They may not be massive mainstream hits, but rock and alternative fans are drawn to their hits like "Where Are You Going", "What Would You Say", "Sattelite", "Crash In To Me", and many more!
The band is of course; Dave Matthews on vocals and "the band" – bassist Stefan Lessard, drummer/backing vocalist Carter Beauford and saxophonist LeRoi Moore. Moore passed away in 2008, and was replaced by Jeff Coffin. Violinist Boyd Tinsley was added to the band line-up, with Rashawn Ross and Tim Reynolds were added as full-time touring members.
If you're a DMB fan, you must've seen them a thousand times over. But as you well know, their shows are always an incredible experience and no matter how many times, they still impress!