Saratoga Performing Arts Center | Saratoga Springs, NY
80s music wouldn't have been more exciting without their music. Chicago filled the air with romance with their syrupy-sweet rock ballads, Rick Springfield made hearts skip a beat with his boy-next-door charm and pop-rock flavored ditties. More than three decades on, their music still has that thrilling effect on their fans. This formidable combination will cause an uproar as they sent the word out of their joint tour. And yes, they're making a stopover on this part of the woods as they are slated to perform at the Saratoga Performing Arts Center on Tuesday 21st July 2020. Yes, that's Chicago – The Band & Rick Springfield, for you! Catch them live! Lock-in those tickets now!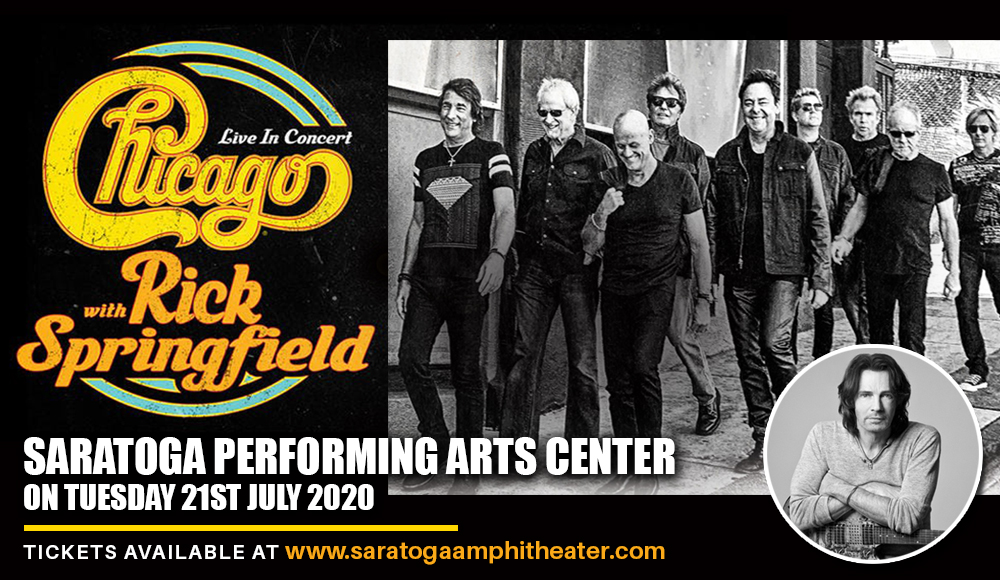 With sleeper hits like "Does Anybody Really Know What Time It Is?," "Saturday in the Park," "Make Me Smile", "Colour My World" and "Wishing You Were Here", Chicago reeled-in the late 60s through the 70s with their blend of elements of classical music, jazz, R&B, and pop, earning them the loose description as a "rock and roll band with horns". And as the 80s rolled-in, they somewhat transitioned into a more mainstream sound that brought them colossal chart success with hits like "Hard to Say I'm Sorry/Get Away", "Hard Habit to Break","Will You Still Love Me?", among others. They hold the record as one of the longest-running and most successful rock groups, and one of the world's best-selling groups of all time, having sold more than 100 million records, with 23 gold, 18 platinum, and eight multi-platinum albums to their name.
Rick Springfield was like the Dr. McDreamy of the 80s. As a mainstay of the popular 80s daytime drama, General Hospital, Springfield had the female fandom on his feet. Yet Rick Springfield has mega doses of talent as well on the music front. As spawned the smash hit singles "Jessie's Girl", "Don't Talk to Strangers", "Affair of the Heart", "Love Somebody"… Springfields hits filled the airwaves to no end. He proved that he is a legit force in rock and roll as he was awarded with a Grammy for Best Male Rock Vocal Performance in 1981.
Two concert heavyweights in one stage?! That sure could bring you loads of regret if you miss this one. It's time to feel good and have a great time. You deserve it! Now book those tickets now!